Big Cottonwood Canyon: Storm Mountain Picnic Area
Big Cottonwood Canyon: Storm Mountain Picnic Area
Overall: 
There is some great climbing here as well as a picnic area, a playground for kids, and flushing toilets which is definitely a plus.
While the overall area has a lot of grade variety, a lot of the routes are trad which is great if you have the gear but incredibly limiting if you don't.
We haven't been to this area (yet) so we don't have more information than what I've placed here but I hope its helpful. We will update as we find out more.
Routes: 
For kids you will want to check out the Reservoir Ridge Area, Storm Mountain Island East Face, Storm Mountain Island – North Face, Psychobabble Wall , Bumble Bee Wall, and Static Wall.
Information about these areas can be found at:
Rock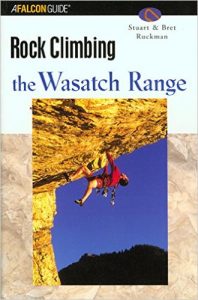 Climbing the Wasatch Range, A Falcon Guide, pg. 118-139.
There is a newer book that just came out, like two months after I bought this book… my luck of course. We don't have it yet so I don't have page numbers for you.
The Storm Mountain Island East Face is almost all Trad but it has a bolted 5.4, Bolt Route, which would be great for a kiddo.
The Reservoir Ridge Area has a variety of easy climbs for beginners and kids, sport and trad mixed.
War Clamor (5.5) the first of a multi-pitch. There are chains 15 feet off the ground which apparently are a teaching tool used by the U of U. While some consider them an eyesore,  they can be great if you have very little kids. Also, you can use it to teach some of your older kids how to clean a route and rap where you can watch what they are doing.
Reservoir Ridge (5.5) is another great climb but its Trad. At some point it had some bolts and pitons but they may have been chopped recently. Still, it may be top-roped from the War Clamor chains. However you may have quite a bit of rope drag if you do.
Also there is another 5.5, Unknown Tradline. Apparently, it can be hard to place some gear which makes it more sketchy. However, its between two sport 5.6s so it may be possible to top-rope. Apparently you can clip some nearby bolts of one of the 5.6s while on that route.
Not to mention both 5.6s would be easy excellent climbs for kids.
 Approach: 
The great thing about this area are the short and easy approaches.
Traffic:
This is a super popular area for both climbers and picnickers so it may get crowded.