Overall: (if your kids are young);  (if your kids are older)
My family took a hike to check out this area during the winter. This area is, without a doubt, great if your a beginner adult. However if you have kids that you might possibly be worried about them falling off a cliff then this is NOT the place for you. Those who designed this area did a great job in setting up some mitigators, like fencing in some areas, however its not somewhere I would take my kids at this time for a climbing expedition – Remember, I have A LOT of kids 5 and under. I did take pictures of the area but they vanished – sorry!
Routes:
This area has a great range of climbs that would let beginners have plenty of options and giving you a few to do yourself. The routes range from 5.6 to 5.11a. The routes can also all be top-roped if you hike up to the right of the crag.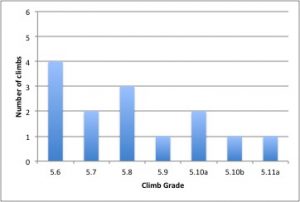 You can find more information about these routes at:
FYI: You can't find it in in Rock Climbing the Wasatch Range, A Falcon Guide.
Approach:
Its a 5 minute hike for an adult. Took us maybe 15 minutes to do as a family with our 2, almost 3 year old walking it her self. The approach is pretty easy going with just slight inclines most of the way.
Landing:
The landing is great for almost all of the routes.
Traffic:
I don't have enough information to provide a rating for this since I visited off season and thus, no one was there.
Extra Kid Fun:
Nothing particularly for for a kid in this area. If you hike on the trail in the opposite direction for just a little bit you will get to a bridge and creek which my kids enjoyed. Also, you do have a phenomenal view of the Salt Lake valley.
Potential Dangers:
CLIFFS!
This is our major issue with this area and why I won't be climbing there with my kids. My kids are all really young and I would be pretty stressed out of my mind the entire time. I had to hold their hands most of the time we were there.
A fence barrier has been placed around the left routes. Its not gated so kids can definitely still make their way around them and go where you would NOT want them to. The gate is really nice though in mitigating that possibility and keeping them funneled/corralled in that area.
The right half of the area starts to go up a hill, 'rocky stairs case'  you could say. This is a major potential danger point. If you have a wanderer or curious kids and they go up these they could slip off an actual cliff. There are also some easier climbs on this far right that I would not want to have my kids hanging out at the base of, for this reason.
The other worry is that you can top-rope these climbs. You might think thats a plus but it also means that if a child wandered and for some reason was unsupervised for a minute, they could potentially get to the top of that cliff.
See this canyon on our Map