South Willow Canyon: Upper Narrows
Overall:
I am so glad I found this canyon this summer. My husband and I have been coming up here almost every week now because it has so many fun climbs at my level. We did take our kids climbing here one day and they had a blast… though I think it was the rope swing that they loved more than anything. Because it's a canyon and you are near a river, I would recommend bring jackets because it can get chilly in the evenings. There are LOTS of campsites coming up this canyon and some just across the bridge from the upper narrows if you want to make a fun family trip out of it. You can find bathrooms in the canyon at some of the campgrounds.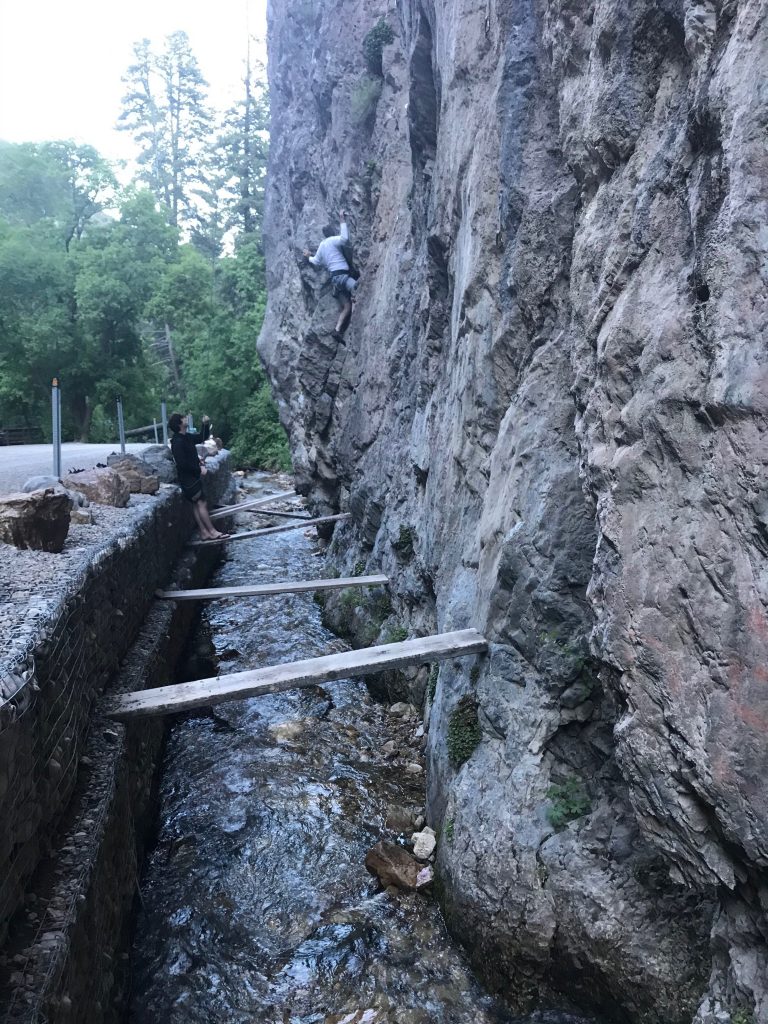 Routes:
This area only has ONE easy climb for kids to do. It's a 5.7. My 8, 7, and 6 year old made it to the top.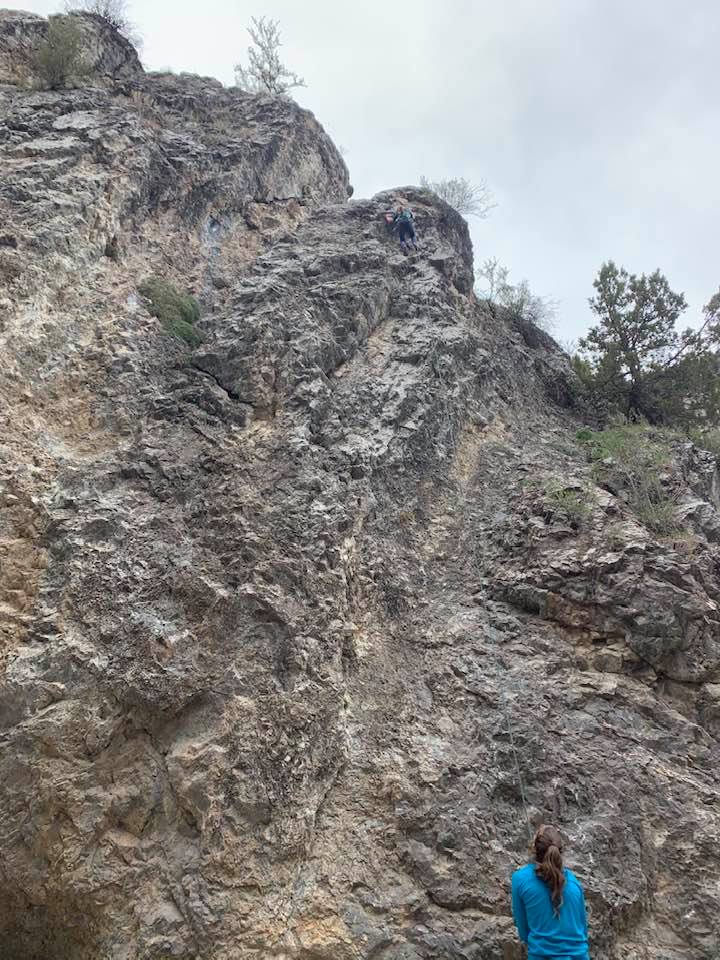 My younger kids made it has high as in this picture.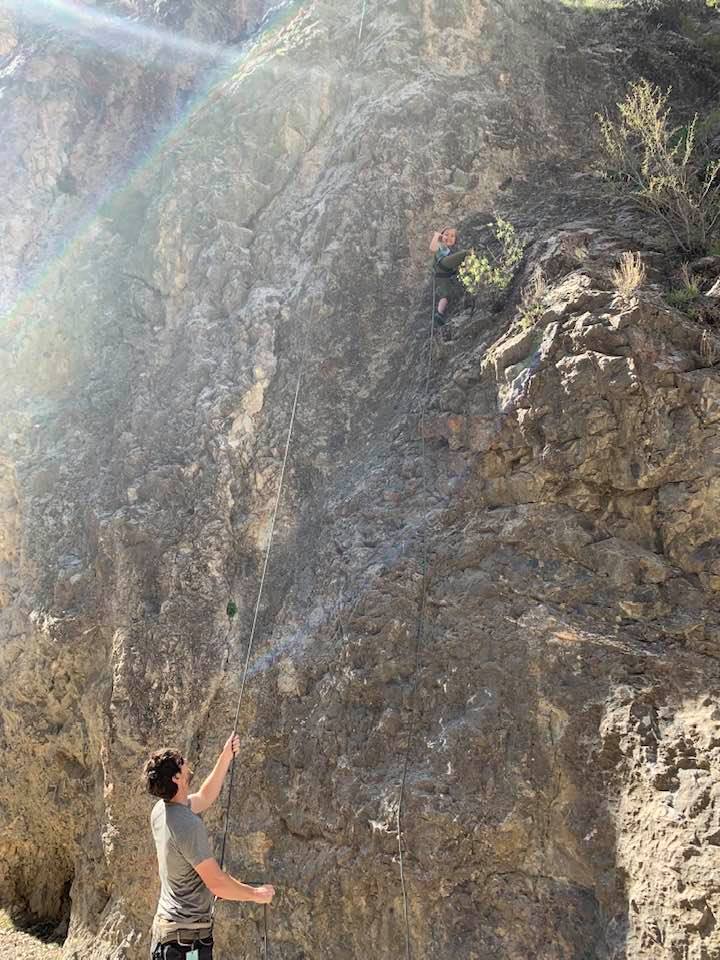 The rest of the climbs are basically all hard in that area but it is a beautiful and fun spot. It can also be a lot of fun for the kids to see you on some killer climbs or watch some other climbers. While I was climbing some 12s there the other day, there were two guys on a 31a, two girls on a 13b, and 2 other guys on a 14c. Yep, I was the worst climber there. It was pretty awesome. You can read more about the area and routes at Mountain project.
Approach:
The climbs are right on the road so there is zero approach.
Landing:
Nice, flat road for this 5.7 Some of the other climbs can take a little getting use to because the landing is a river that you walk across a plank to get to. I usually have my belayer anchor themselves to the metal wire or poles on the road while they stand on the edge of the plank next to the road with the rope behind them.
Traffic:
Because this area doesn't have many easy or intermediate climbs, you don't get a ton of climber traffic. The canyon itself though is always really busy.
Potential Dangers:
You are on a road and while vehicles and 4 wheelers driving through the canyon are aware of this and take it easy, it's a danger. Also, there is a river and a drop off from the road into the river at some points.
Other Fun Activities:
Rope Swing: This was my kids favorite part of the day. ALL of our kids that were there, ages 4-12, could not get enough of it.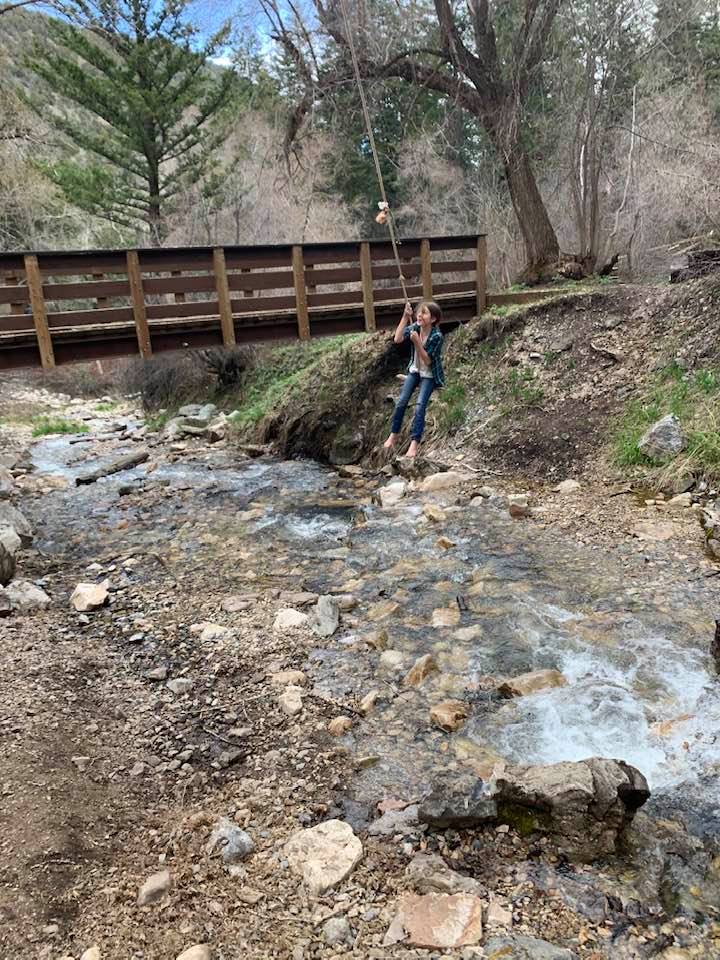 Camping: Lots of camping options going up this canyon. There are some really beautiful sites next to the river.
Geocaching: I don't have service in this canyon so if you want to geocache make sure you download it beforehand. My kids enjoyed finding several geocaches here.
Small Cave: The lower narrows have a small cave that climbers boulder in at the base of some routes. This is a fun exploration for little kids.
4-wheeling: You will see non stop 4 wheelers in this canyon.