Tips for Climbing with Kids Ages 4 and Up
Every kid is different so these age splits of under 4 and 4+ for our tips aren't necessarily going to be exact for you. So check out the Tips for Climbing with Kids Under Age 4 if it seems relevant to your child's experience.
This is when you start to have a real climber on your hands and it gets really fun. It was just this summer that my 4 year old started to really get and love climbing. Before now, she had gotten to the top of a kid route in the gym a few times but she usually wasn't going much higher than I am tall and outside attempts were mostly just swinging on the rope. Now she's sending everything we get her on. Please check out the crags we recommend on the site for climbing with kids because there are some perfect routes to get kids confidence up.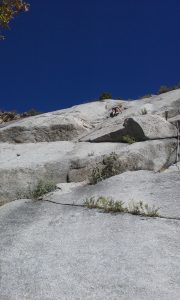 Practice lowering/rappelling
Before you let them get above your reach make sure you go over lowering with them. Do not forget because yelling these instructions late can be frustrating and confusing. Make sure they have it down before you let them continue.
Check their comfort constantly
Have them STOP OFTEN, every few feet, the first few times they climb and have them show you that they are comfortable. The last thing you want is a frightened kid at the anchors who won't let go.
Try mock leading
Once they start really climbing, let them start mock leading. This can be a lot of fun for them. Remember kids love to be like you and they see you leading all the time so let them give it a try. You can let them start doing this when they are still just 4 and seem ready. I wouldn't let them actually lead for quite a few more years though 🙂
Tie an additional piece of rope on them that will hang a few feet. Give them the quickdraws and a lesson and let them go using that extra rope to lead with as you belay them top-roped.
Consider a 3-person multi-pitch
A multi-pitch can be an incredibly fun experience for your kids but there are a few things to consider. Mainly, you little climber is likely not going to be able to belay you for quite some time because 1) they are too small and will be pulled upwards if you take a fall and 2) competence. When would you would trust your life to your kid…
An easy 3-person multi-pitch will allow you to take your mini on a multi-pitch when they cannot belay. These are the dynamics you need to keep in mind: (1) An adult will be tied into each end of the rope using an eight knot. The child will be tied into the middle of the rope using an eight knot on a biner. You will never untie, move, or change this order. (2) One adult will belay the other as they lead the first route. (3) The leader is an adult who will belay the middle climber (child) from above. The leader will also belay the last climber, another adult, from above. (4) The adults can switch leading but the child will always remain in the middle. (5) You cannot do a climb over 100ft on a 60 meter rope or 115 ft on a 70 meter rope. Also, keep in mind you are going to need a few feet to work with at the anchors and belay station. Do not make this mistake, its very important or you won't have enough rope. Remember your child is at that middle mark.
I recommend a short and easy two-pitch for their first.
If your kid is old enough and competent at rappelling (they would have to be much older than 4, I'm sure) then go ahead and do that for the descent. That might even be your kids favorite part. But remember to have your child rappel in the middle so an adult can set up and check their rappel at the top and fireman belay them at the bottom.
If your little one is not old enough to rappel themselves, like mine, then look for a multi-pitch with a walk off.
Get the gear:
Harness: If your kids are going to get into climbing they will NEED a harness. We bought the Petzl Simba Full-body climbing harness for Eve. Click here for a product review. It can be used for probably up until age 8. if your not getting a full-body harness, I recommend getting one that is fully adjustable – as in it will synch tiny and get huge. I've wanted one like this for awhile so I'll have to update once I do.
Shoes and chalk bag: Now that they are really climbing they will WANT shoes and a chalkbag. Once Eve started taking our shoes and trying to climb with them we invested in some Mad Rock Md Monkey 2.0 climbing shoes of her own for her birthday. Click here for a product review. River later used the La Sportiva Stickit FriXion RS climbing shoe. Click here for a product review