Close to Maple Canyon, it is the less frequented and less developed area.  The rock there is not as absurdly amazing as is Maple rock, but if it were a canyon far from Maple Canyon it would be a very popular destination.  The camping here is free, but undeveloped so be prepared to dig a few holes.  There are two developed areas but they have some fun climbs.  And though it is not very developed, the canyon houses one of the best kids' routes in the state.  This canyon is worth a visit at least once, if not more.  This page does not follow the typical format because the area is so undeveloped.
School House Rock –
Overall: 

This is a fantastic area for beginners and most definitely children. In fact, it arguably has one of the best kid climbs I have ever seen. If you are looking for a place for your first lead or your kids first lead, this is the place.
This is a picture of a four year old feeling pretty proud of herself at the bottom of the climb.
Routes: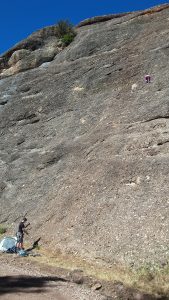 __, 5.0,might be the best kid climb in Utah. From its anchors 100 ft up, our 4 year old yelled, "this is a good kid climb". That's saying something.
There are other easy climbs in this area and a few intermediate 5.10 climbs to keep the adults entertained as well. The 10s felt a little stiff when I climbed them, but all the hard stuff is at the bottom as in just the first few moves) and then it mellows out significantly for the length of the climb.  That said, the hard stuff was pretty fun.
You can find information about this area at…
Nothing yet from Rockclimbing.com
Maple Canyon Guidebook pgs. _____ (Fill this out!)
Approach:
Zero approach. None. You can belay from your car.
Landing:
Large, perfect, and flat.
Traffic:
We saw two cars and they weren't climbers the entire day we were there. There were no other climbers the two days we camped there.
Potential Dangers:
You are right next to the road so you need to watch your kids and make sure they are safe when any possible cars come by.
Other Activities:
Camping:
There are lots of sites the entire way up the canyon. Two spots are maybe a two-minutes walk to School House Rock. The camping is free and the sites are beautiful but they only have a fire pit. No bathrooms or water in the canyon.
Cows:
Are kids loved having cows pass by the crag and campsite. I don't know if they are normally there or not or if it was a freak accident that they got out.
Four-wheeling:
There is a 34-mile ATV trail loop. It ends in Maple Canyon. We saw quite a bit of families on these, You can read more about it here.
Dirt Bike:
Difficulty: 1 out of 5. 20+ miles. The elevation changes from 6200 to 9800.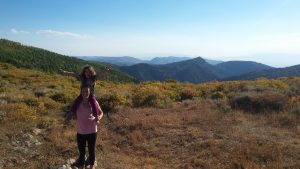 Scenic Drive:
You can follow the dirt road to the top of the canyon which is gorgeous. If you take a left at the fork at the top you can make it all the way to the top of Maple but the road will be pretty gnarly, 4X4 is a must.
See this Canyon on our Map