Big Cottonwood Canyon: Dogwood Crag
Big Cottonwood Canyon: Dogwood Crag
Overall: 
The Dogwood Crag is a great place to take a family climbing. The routes are good for young kids and beginners, plus there are a few that will keep the experienced climber entertained. The approach and landing are good, plus the setting is gorgeous. The problem with the area is that it gets lots of traffic and the climb you are looking to get your littles on may already be taken by someone else. The location is great as it is at the very bottom of Big Cottonwood Canyon. Very easy to get to and to find.
Routes: 
Dogwood crag has routes for kids, beginners, and intermediate climbers. The crag has a few anchors for top roping, so if you are sick of being a rope gun on easy climbs, this area is for you.  Here are the climbs as per Mountainproject.com…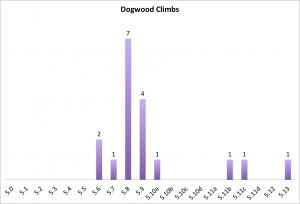 You can find information about this area at…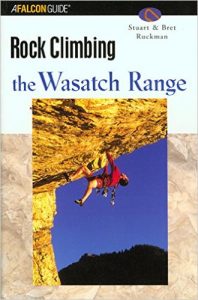 Guidebook – FalconGuides Rock Climbing the Wasatch Range Pgs. 62-64
All of the kids climbs are designed for top roping. This can be a good or a bad thing. I swear if I ever die because of rock climbing, it is going to be because I was trying to top rope something. Top roping here could be dangerous, so just be careful and anchor yourself before you do any rope work while leaning over the cliff.
Even though there are climbs here for little kids, the beginning of each route is pretty barren of handholds. For my youngest, I usually have to lift them up a few feet to where the climb gets easier. For those a little older, they can usually figure it out, but I've seen a few get discouraged and come down prematurely.
If you're looking for somewhere to go quick without doing much research, this area would be good.  Without any knowledge of the climbs, you can come here and walk around and up the crag to the west and throw up some top ropes.  Your kids should be able to climb on anything you can top rope here and do fine.  While facing the crag, the farther right the easier climb it is for the kid.
Approach: 
Time
For everyone without kids, the approach would be five cheerios, but the unique logistics of the area make this approach a little more complicated with kids. It costs money to park right next to the trail leading to the Dogwood crag. So usually people will park in a pull out slightly past the sign on the main road, outside of the parking lot. It is still a pretty short walk, but if you are going to set up your tent trailer and whatever other mountain of gear you brought, it becomes a bit of a walk with the littles. I have found it beneficial to drive up to the trailhead, dump everyone out of the car, help them walk to the climb, then come back and move the car. This makes the approach kind of a pain in the neck, but still short enough.  
But if you don't care about paying then…   

!
Difficulty
Easy. They can do it on their own practically.
Danger
There is a river to the left, but you'll be next to it the entire time at the crag.
Landing: 
The landing here is amazing. Even though it is right next to a river, there is enough room to feel safe. The landing is also super flat, and has enough room for all of your stuff you have to bring to keep everyone happy.
Traffic: 
Traffic is definitely the buzz kill of this climbing area. There are only a few top rope anchors and they quickly get filled by beginners, scout groups, people on dates, etc. During the summer, some youth outdoor rehabilitation groups use this as their go to crag. If you live close, it might be a good idea to do a reconnaissance mission before bringing the entire team.
Extra Kid Fun: 
The setting here is gorgeous and your kids will love it. The crag is set right next to a river that the kids can get down close to and play in the water. Last time I was there, my kids and their cousins were searching through the water for different river bugs and caught them all in a cup.
The area is also next to the campsite which has lots of trails around it for exploring. If your kids are old enough to go off on their own, they will enjoy walking through all the trails and the campsite, but it will just take them in a bunch of circles so they can't get too far away.
Potential Dangers: 
This area should be safe, but there are some very real potential dangers here. The river is right next to the crag and is not slow moving in the middle. If a ridiculous child tried to go swimming, there could definitely be a problem.
The other issue with the area is that even though the landing is flat, there is a trail very nearby that can lead to the top of the cliff. That trail is steep and a child could potentially fall and hurt themselves. But worse, if they got to the top of the cliff, who knows what could happen. I don't trust my oblivious children in situations like that.