Want to take your child on their first multi-pitch?
I just took my 10-year old on her first multi-pitch and it was an experience I had been looking forward to for a long time! A multi-pitch is the epitome of an adventure. Here are a few things you want to think about before heading out:
Is your climber ready? Can they climb at least a 10c in the gym and do they have experience climbing outside at the grade level of the multi-pitch? Are they still scared of getting to the top of a climb? How do they handle their fear? Can they rappel? Are they old enough to belay you? Can they clean a route?
If they cannot belay you: My 10 year old is not old enough or big enough to belay me so we did a 3-person team with her in the middle so she always climbed second and never belayed.
If they cannot rappel: Then make sure your multi-pitch has a good walk off that you are comfortable with but I recommend training them first. My 10-year old is competent at rappelling and has already done a canyoneering trip where she descended a 200 ft rappel. She did that at age 9. Weight makes a difference so probably best if they are over 60 lbs. Rappelling is an important skill so I recommend training them as soon as you can. It can also really help them with fear of heights and trusting the rope. I always make sure we have an extra rappel device with us on a multi-pitch even if we are going to walk off so we are prepared for any scenario.
Where should we go?: Mountain project has a route finder search option when you click on an area where you can filter for type, grade and number of pitches. I did a search in all of Utah for a climb that was at least 3 pitches and 5.9 or under. There were a number of options – some great ones in Maple. I picked one that was close to me and where every pitch was UNDER 115 feet because it was a 3-person team on a 70-meter rope. We did Drivers Test, Run for Cover in Rock Canyon. The start of the first pitch had lost a large section of rock and so we climbed the first two bolts on the route to its right. I used extenders and then continued on the route as intended. It wasn't an issue. You could also climb the route as it is but I was worried my 10 year old wouldn't be able to do the first moves. This has a walk off option but we rappelled so I can't speak to how the walk off is. Pitch 2 was my favorite but my daughters least favorite because of the overhung sections. It was a complete success!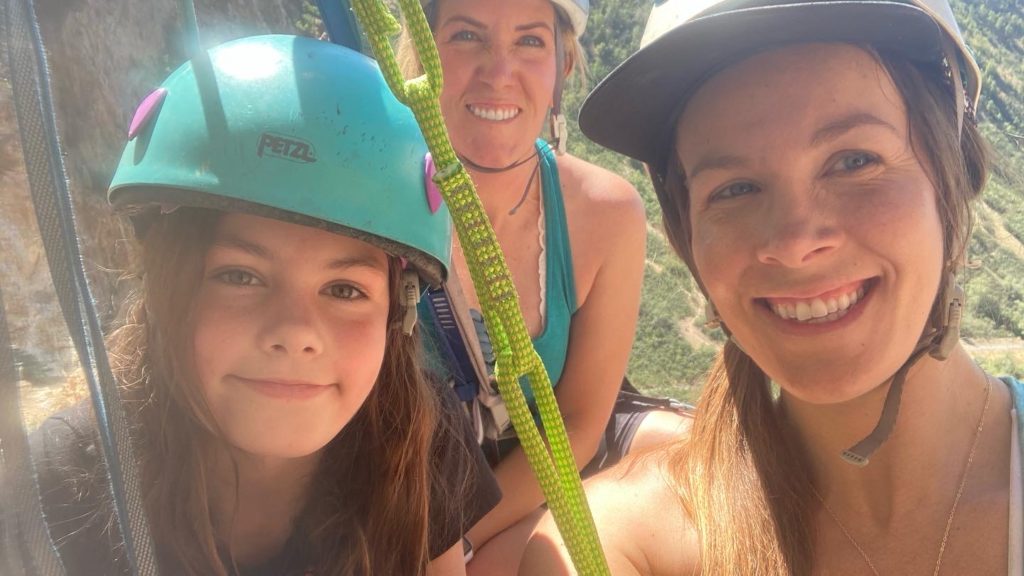 I recommend a short and easy three-pitch for their first and a 3 person team so you can have another adult present. These are the dynamics you need to keep in mind for the three-person climb: (1) An adult will be tied into each end of the rope using an eight knot. The child will be tied into the middle of the rope using an eight knot on a biner. You will never untie, move, or change this order. (2) One adult will belay the other as they lead the first route. (3) The leader is an adult who will belay the middle climber (child) from above. The leader will also belay the last climber, another adult, from above. (4) The adults can switch leading but the child will always remain in the middle. (5) You cannot do a climb over 100ft on a 60 meter rope or 115 ft on a 70 meter rope. Also, keep in mind you are going to need a few feet to work with at the anchors and belay station. Do not make this mistake, its very important or you won't have enough rope. Remember your child is at that middle mark.