Maple Canyon: Billy the Kid Wall
Maple Canyon: Billy the Kid Wall
Overall:
Billy the Kid Wall is one of the best places in Utah, or probably anywhere, to take kids to rock climb. The only reason I am not giving it 5 cheerios is because there are not any difficult climbs for adults. The approach is short and the landing is great. The area is fun, and the climbs are easy. For the especially tiny, the first part of the climb is really mellow, more like class 4 scrambling, and they do great on this.
Routes:
Billy the Kid has three easy routes 5.6, 5.7, 5.8. Here's the graph I like to do, just to be consistent although it probably isn't necessary in this area.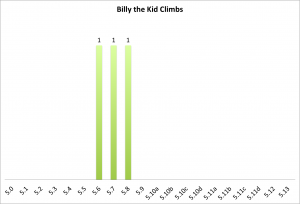 These routes can be found at…
Maple Canyon Guide Book pg. 172-173 (If you are planning on doing any substantial amount of climbing in Maple Canyon you really should buy this book. The link is for a page where you can buy the book.)
These routes are easy for kids and can be a great opportunity for them to experience the height of rock climbing without difficult climbs. We have taken a four year old and she was able to get to the top of the 5.6. For those younger, the beginning of the climbs has a mellow grade that feels like climbing for the kids, but is easy enough to deal with any problems that could arise. We have taken our kids here as young as two and they were able to climb up the route until it becomes vertical. For the younger kids we suggest using a piece of webbing or rope attached to the back of the harness on the less steep terrain, see Tips for Ages Under 4.
Approach:
Time
The approach is not right next to the road, but close. With kids as young as two years old it should not take you more than five to ten minutes, most likely less.
Difficulty
Strait path. Nothing to worry about.
Danger
Not really dangerous, but a few years back our then two year old did stumble at the beginning of the hike. She tumbled down a hill that could have potentially hurt her pretty bad. She was fine, but a little shaken up. You see those videos of miraculous dad saves on YouTube. That wasn't me. I would say, not dangerous, but hold the littles hands at the beginning.
Landing:
The landing here is great. It is flat and safe with room for kids to run around and be ridiculous. There are logs for parents to sit on and room enough to set down all climbing gear. It might feel a little tight if you have a big group, but that is a mild likely unsubstantiated complaint. Here are some pictures of the landing.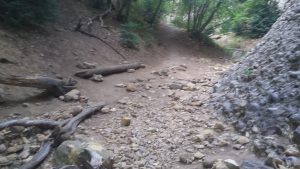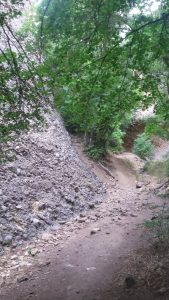 Traffic:
I have never chosen to go to Billy the Kid wall and not have the climbs available. Maple Canyon can get busy, but Billy the Kid wall has more mellow climbs so it is not frequented by the more experienced climbers. That said, if there is a group there, it is unlikely you will be able to get on any climbs. The area is not big enough for more than one group.
Extra Kid Fun:
I think this area is a lot of fun. The approach is a hike past The Pipeline, which has some difficult climbs and usually people good enough to do them. It is pretty fun to watch. Slightly farther up the path is a log crossing a small ravine. It is not super dangerous so my kids and I always like to do it. My dog will even cross it.
Here is a picture of the log.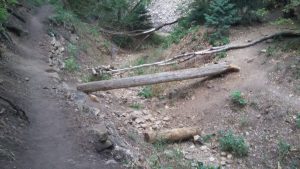 Potential Dangers:
The hike is mellow, but has enough room for kids to run around and explore. Some boundaries for wandering should probably be set depending on how old your children are, but for the most part there is no where they can go to get themselves in too much trouble. Don't let them walk across the log on their own. The back has a steep hill.