Tank Canyon: Two O'Clock Rock
Tank Canyon: Two O'Clock Rock
Overall:
The area was really great for the family. Large open area for the kids to play in and be safe. We had lunch here and the kids were content to play for a long time. However, the routes were kind of lacking. There are two easy routes that you can send your kids up as well as 3 climbs for you. They are not as cool as the kid routes 30 yards to the south. Because these areas are so close you could kind of combine them into one and bring a child over to the Flopper and Small Fry routes one by one to do those if you wish. There are no harder climbs over there.
Routes: 
he bolted route on the far left here seemed maybe like a 5.5. My 5 year old did it great but all my younger kids struggled. However, to the left of that we slung an anchor off a tree and my two 4 year olds and 3 year old were able to make it to the top here. My 2 year old and 20 month old also were able to move on it, unlike the other route.
You can get more information here:
These climbs aren't on rockclimbing.com or in the guidebook.
Approach: 
There are two approaches: (1) Direct: approach up a steep bank. This is not recommended with kids! (2) Trail: This approach is a a very easy walk on a trail that will just take your kids 5 minutes. Even my 18 month old walked the whole way.
Landing:
Flat large area.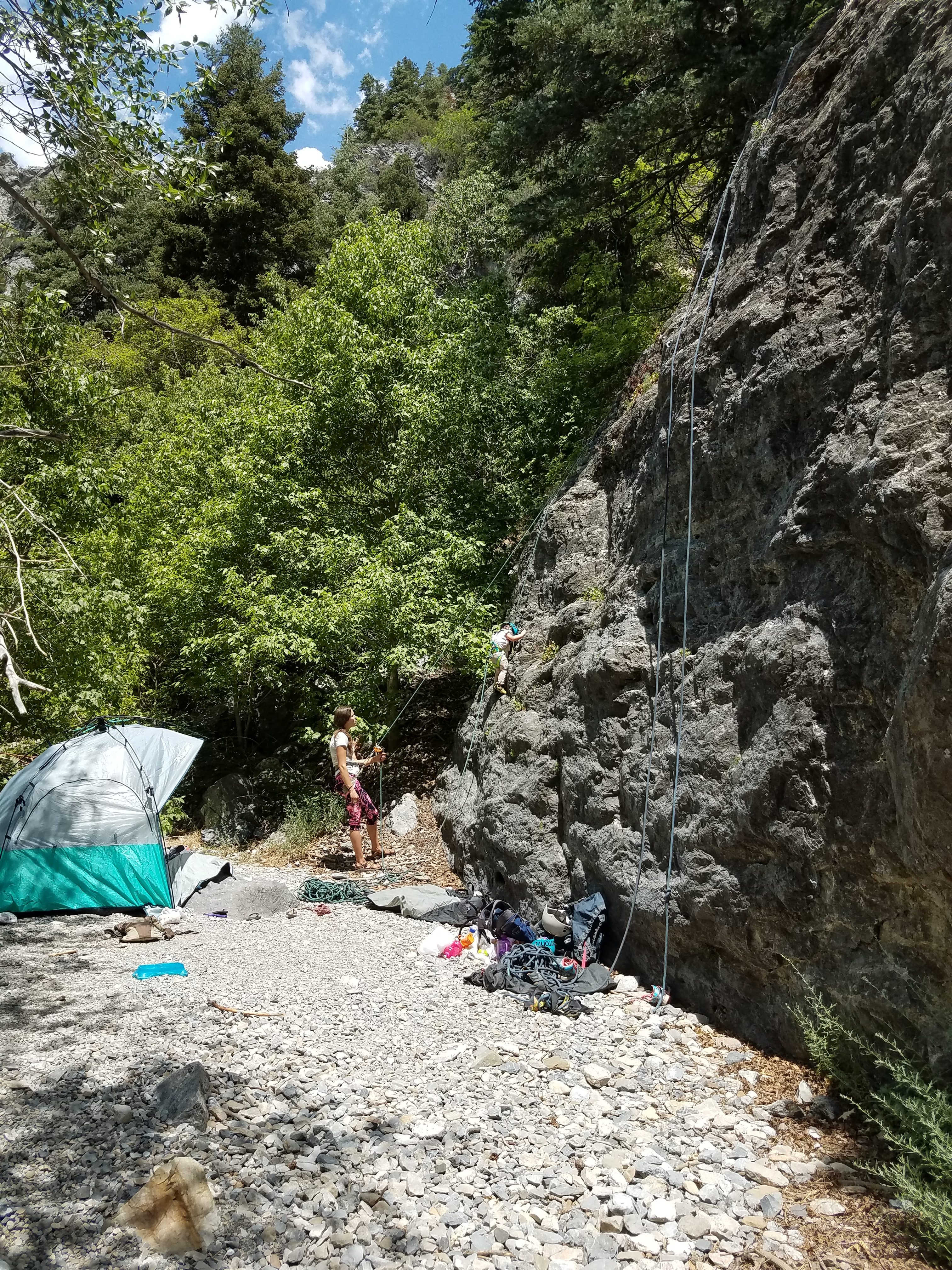 Traffic:
This area doesn't get much traffic at all.The routes on this crag are really short and rarely frequented.
Extra Kid Fun: 
There is a small cave on the West side of the crag which my kids thought were really cool.
My kids LOVED climbing up the spot that leads to the cave and climbing off over and over again into my arms. I got tired of it before they did…
Its a large open area with a creek bed and so my kids loved exploring. Just make sure you set up boundaries.
My 5 year old caught a lizard here which she named Tiny and loves very much hahaha!
Potential Dangers: 
If you let your child scramble up or go up the trail that goes around to see the small cave on the West side of the crag they could fall off the 4-5 foot wall. Its a large area and our kids played around in this area with little problems. There are normals risks of your kids tripping and falling on rocks.