Little Cottonwood Canyon: Lisa Falls

Overall:
This area is absolutely perfect for kids. They will LOVE it, whether or not they actually climb. I promise. The routes here are next to a year long waterfall, if that wasn't obvious from the name.
Routes:
Its VERY slabby climbing here so if you aren't use to that, it will be good practice for sure. That can make it deceiving though. Believe me, the routes are not as easy as they look.
Lisa Falls Left (5.8R) can be top roped from the steep trails that goes up just to the left. My 4 year old said this was a great 'kid climb'.
We also set up on Fleeting Glimpse (5.9) and had our kids climb Lisa Falls Right (5.5) off those anchors.
These routes can be found at…
Rock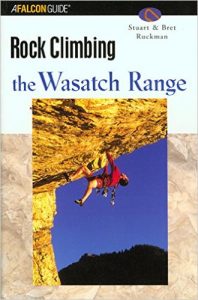 Climbing the Wasatch Range, A Falcon Guide, pg. 338.
There is a newer book that just came out, like two months after I bought this book… my luck of course. We don't have it yet so I don't have page numbers for you.
Also, a climber that was next to us at a crag in Little Cottonwood didn't seem to pleased about the newer version which has pictures that were apparently not so helpful. The older version as detailed sketches and not pictures.
Approach:
Its a short hike to the falls which my two year old can do on her own. It seems less than a quarter mile, Mountain Project says 200 yards. Its very easy going Our friend with a broken foot made it up.
Landing:
Its rock so the ground isn't perfectly level. Also, depending on the water level you'll have to pay attention while belaying to not get your rope wet which can be kind of in the way of where you want to stand.
Traffic:
We've been here twice. Both times there were a lot of people, but one of those times there were no climbers and the other a climber on almost every route. We were still able to get the climbs we wanted but its something to be aware of to make sure your considerate of the other climbers.
Extra Kid Fun: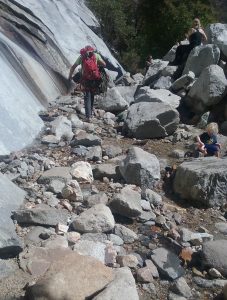 So much fun! All the kids absolutely loved it.
Playing in the water: They played in pools of water getting soaked – bring extra clothes if you can. It would be specially perfect for a hot sunny day.
Drinking the water: We brought our water pump filter which some kids enjoyed testing out and drinking the water and learning how the filter worked.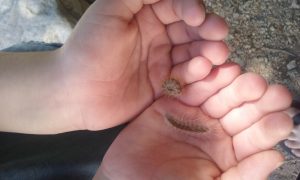 Catching caterpillars: When we went in September there were caterpillars everywhere. Everywhere. The kids loved it. Well except for my two year old who for some reason found them very frightening which was hilarious…You may even consider bringing something to carry a few back home with you and building a home for them where you can watch them cacoon and transform and then let them go. My kids love that.
Potential Dangers:
Well it is at a waterfall. The water was low when we were there and not problematic but as always watch your kids.