Product Review: Petzl Simba Full-Body Climbing Harness – Kids'
Product Review: Petzl Simba Full-Body Climbing Harness – Kids'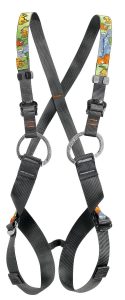 Overall: 
Because my kids are still small I've preferred using a full-body harness. This harness says it can fit children up to age 10 and while it is super adjustable, after taking a lot of cousins climbing, I really think your probably only looking at up to age 8. Also, you are probably going to want to transition from a full-body harness to a sit harness around age 6 anyways.
Comfort:
I can only give this harness three cheerios in this area because of its complete lack of padding, none whatsoever. For that reason, I make sure that my girls aren't wearing a tank top so that there is at least a shirt between the buckle and their skin.
Practical: 
This harness is super adjustable and can get really small. We bought it in a store and was told by the merchant that this would definitely be the harness we would want  for our littles and so he ordered it for us. However, it isn't really made to be worn for kids under the age of 4. On our 2 year old it fits too high and squeezes the face.
With how fast kids are growing and if you are going climbing with a group of kids this is a great harness that will fit many sizes.
This harness is also super easy to use. My 4 year old can put it on by herself without a problem and it fits her fine.
Cost:
You can find this harness anywhere from $47-59 which is worth it for how long it can fit your child, though pads people, come on.